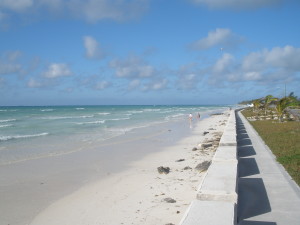 The Fan 4 were in Freeport Bahamas the week of February 22nd to March 1st. I was expecting a warm tropical week. I forgot that Freeport is only 70 miles East of Miami and shares pretty much the same weather. The temperature was in the high 70′s all week with the humidity in the high 80′s so it felt a lot warmer than it was.
We chose the Island Seas Resort for its location on a  long white sand beach. It is off the beaten path but only 10 min from Port Lacayo by car. There are two sides to the resort. One side has a beach view and the other side has a canal view. I sent the resort an email months in advance requesting a beach view. They replied that they would try to accommodate us. Check in was at 1600 hours but our room was not ready until 1750 hours and we got the canal view. I tried to see what was available with a beach view but no one seem interested in helping me. Everyone told me to go ask someone else until I was told to ask someone who was not there. I was assured that she would call me the following day with availabilities. Didn't happen. Our room was decent. Old and in need of remodeling. The rooms were clean but the floors had not been.
I must say, the beach was nice and a short walk down the beach landed us at some inexpensive local bars. One of the first ones we tried was called "On the Rocks" They served local food, local beers and mixed drinks for a great price. I tried the conch and lobster and conch fritters. It was one of my favorite meals of the trip. Brian was the bartender and he was very generous. We exchanged shot recipes and had a great time.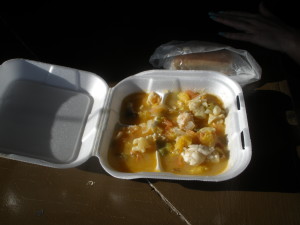 Sunday
We went scuba diving with Sun Odyssey. Sun Odyssey is a small family operated dive shop. The boat is spacious and easy to dive from but the rental equipment needs some attention. We had a tank with a bad O ring and a BC inflater valve stuck open. Our first dive was on a reef at 14 ft. The reef was alive with lots of fish but is was surgy on the bottom. Visibility was approximately 60 ft. Our second dive was on a wreck and I was excited to get in the water. Unfortunately my dive partner had equipment problems and we had to abort the dive.
While hanging out at the resort, I met a local taxi driver named David. I have included in his information and I recommend his services. David got us up to speed on everything on the island. From taxi fares to local events and attractions. He steered us away from the tourist places and introduced us to some local sites. We used his service exclusively. One of the places he recommended was Sire's Restaurant. Sire's serves up some of the best local cuisine with large portions at a great price. Six people had two appetizers, drinks and entres for $20 a person. I was so full I had to waddle out and I was glad David was driving a van.
Monday
Monday we went to Port Lacayco. It is two blocks of stores, restaurants and bars set up to accommodate the cruise crowds,  Fortunately for us there were no ships in that day.  There was a nice Cuban cigar store that had a great selection of Cuban cigars.  We had drinks and appetizer at a couple of places (Can't remember the names). Around dinner time we were trying to decide which restaurant to eat at.  A lady walked by and I asked her for advice.  Her name was Ginny.  Ginny told us to that her husband was the chef at Giovanni's Italian Restaurant and she invited us to have dinner there.  We took her up on her offer and we were not disappointed.  Hill and I had the Chef special.  For $45 we got appetizer, glass of wine, dessert and the Seafood pasta in olive oil.  Delicious.  The seafood was made up of local seafood.  Conch, lobster, grouper and lite tomato in a spicy olive oil sauce.
Tuesday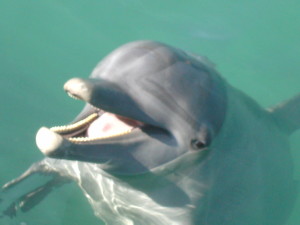 Dolphin day.  We booked a dolphin experience with Unexso.  Unexso is a very impressive dive center.  Their dive center sells diving equipment and apparel. They have a restaurant and bar and a pool that you can lounge by while people are taking dive classes.  They also have a fleet of dive boat and water taxis.  We took one of the taxis, with Captain Carl, to the lagoon where the dolphins were.  For $175 we got to swim in the lagoon with the dolphins.  What an experience. Each of us got our own dolphin to play with.  We could swim with them, dive with them, hug them.  They were very playful and funny.  They are amazing creatures.
David had told us about a bonfire at one of the hotels. He said there would be plenty of food, drinks and a good time. So, after our great experience with the dolphins we went to the bonfire.  Unfortunately for us, it was too windy for the bonfire and the event was moved into the resorts patio area.  There was plenty of drinks, music and limbo.  But, nobody was in the party mood so we went back to Port Lacayo and had dinner at Agave.  As its name suggest, Agave serves Mexican cuisine and they have a decent tequila selection.
Wednesday
During the day we relaxed on the beach and walked up to a famous local bar called The Two Dollar Bar.  Beers are 2 bucks.  Great concept.  Everyone walked away a happy customer.  Wednesday night was the fish fry.  Again, David gave us the info on this.  Every Wednesday at Smiths Point, local restaurants put together a fish fry.  There is plenty of food selections, drinks, music, dancing on the beach of Smith Point.  Everyone on the Island goes.  It was all that it was billed up to be.  We all bought dinner from a different restaurant and then we got together and shared.  That was the best part. I had conch, friend snapper, fritters, mac and cheese. All for $6.  I think Doc's grouper was the best.
All in all I had a nice time.  The beach and ocean was beautiful, the local food was interesting and we had fun.  I was disappointed with the Island Seas Resort.  They were indifferent to our existence and no one was willing to answer any question or assist in any way if they could send you to someone else.  I promised David I would include his info so here it is.   David Francis: Cell#(242)559-6331. Email:Biggs8069@yahoo.com.  David is a good man.  You can trust him and he will be good to you. Check out the gallery for more photos from the trip.