Day two of our Finger Lakes Wine Tasting adventure found us on the Seneca Lake wine trail. The overwhelming majority of wineries in the finger lakes region are on Seneca Lake and to do this trail justice you probably need two to three days dedicated to tasting. Having just one day to pack it all in we decided to concentrate on the less densely populated eastern shore. The views from this side of the lake are amazing and packing a picnic lunch to enjoy either at one of the wineries or finding your own spot overlooking the lake is highly recommended.
Our first stop of the day was at Damiani Wine Cellars. They had a long list of wines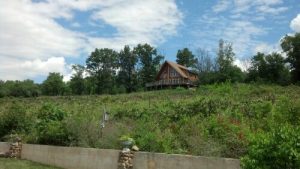 available, but were also offering a wine and chocolate pairing. One word of caution when you see a long list of wines available at a winery, it can be a good thing, ie-you are likely to find at least one thing that you enjoy, but also a bad thing, they are not focusing on any one area so you are less likely to find anything earth shattering. Here we found the chocolate very good, but were not pleased with any of the wines paired with them or the actual pairing itself. They had several Rieslings that were good but not worth taking home.
After a quick lake side lunch we found our way Red Newt Cellars. Removed from the shore line, they did not have the incredible views some of the other wineries enjoyed, but the grounds and tasting room/restaurant were very nice all the same. They have several decent Rieslings here. Their flagship wine is a sweeter Riesling, more in line with what I think most people think of when they think of US type Rieslings. It was very pleasant with a lot of fruit. I could enjoy a glass on a hot summer afternoon, but I am not sure if I would have wanted another.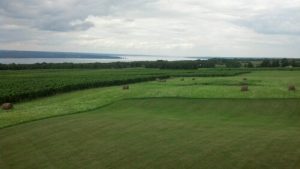 From there we passed numerous wineries on our way to Lamoreaux Landing Wine Cellars. Another of the better known wineries in this region and they have found a location that takes full advantage of the beautiful lake views. They have several very good Rieslings here and if you taste them side by side you really get to taste how the exact same vine can produce very different wine just based on where they are planted. Although very well decorated and recognized, the price point for all of these wines was very reasonable with their $11 table white being a very nice every day wine that would pair very well lunch or a light dinner. Of note they also had a couple reds here that were far better than any others we had tasted to that point.
Until our experience at Lamoreaux we had all but given up on the reds in this area, but after tasting there we decided to double back and give Shalestone Vineyards a try. Their motto "Red is all We Do" seemed pretty daring after all we had tasted and learned about the region. Much to our surprise and enjoyment the reds here are definitely worth the stop.  At the advice of our host Jacqueline, we enjoyed them for what they were and where we were. Given the limitations of the region with regard to the length of the growing season you are not going to get the full bodied, supper complex reds you find in other areas, but they are able to do the most with what they have and offer a flavor and complexity that we could not find at other wineries in this region.
Final thoughts: This region has become an East Coast destination for wine tasting. While Riesling and Gewurztraminer are not generally on my go-to list they are both done very well here and I was able to find several that were much more flavorful and complex than any that I have tried in other regions. They also have some good Chardonnays and are experimenting with some other European varietals that I was not familiar with before coming here. If whites are your thing this area is definitely a must on your list of wine adventures. They do those well and while they know it are not at all snooty or in your face about it, it's nice to see they have develop a mature confidence about their wine and are not trying to compare themselves to anyone else. If red is what you seek you may want to look elsewhere.