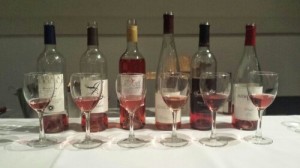 For those of you that attended our 2013 Santa Clara County Rosѐ Challenge, or Throw Down, thank you for making this a great event. For those of you that missed it, your loss. The Hayes Mansion provided a great location and hospitality for the intimate event. We purposely invited a variety of wine palates to the event so we would have a good cross section of society to judge the wines.
Although I am not usually a big fan of Rosѐ, I do like them with a picnic style lunch or light summer dinner. They generally come in two styles, "old world" or European Rosѐ lean towards the dryer side, and "new world" Rosѐ lean towards the sweeter side. Rosѐ has recently become much more popular here in the US and a lot of wine makers are getting creative with its production. From single varietals to blends to secret fomulas, it is often the wild card in their lineup.
So who was the big winner at our event? Well congratulations to Solis Winery for getting both the highest number of first place votes and the highest number of overall votes. A nicely balanced "new world" style Rosѐ, it is not too sweet to pair well with a number of different appetizers or light meals. After Solis our crowd went back to the "old world" style giving Aver Family Vineyard the second most first place votes and Jason Stevens (my first choice) to most second place votes. Interstingly we had a tie for third place between the secret formula "old word" style Thomas Kruse Winery and the "new world" style light but flavorful Clos La Chance.
So there you have it, we tasted seven different Rosѐ from Santa Clara County, some sweet, some light, some balanced and some with a very tart, dry finish. Overall a good cross selection of what Rosѐ can be. Thanks again to all our judges and the staff at Hayes Mansion for making it a night to remember.