Hold summer in your hand, pour summer in a glass, a tiny glass of course, the smallest tingling sip for children; change the season in your veins by raising glass to lip and tilting summer in"
― Ray Bradbury, Dandelion Wine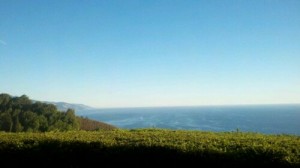 While the rest of the country has been under a barrage of storms this winter, so much so that it effecting the national economy, we here in California have had one of the best summers this winter that many of us can remember. It was on one of these memorable weekends, mid 70's, light wind, clear skies-in MARCH, that we found ourselves back in Carmel. True to our form, our first day was spent catching up with some of our favorite wineries in the square, Wrath Wines and Scheid Vineyards. Paired with some of the incredible cheese's  found right next to Wrath at the Carmel Cheese Shop and the weekend was getting kicked off in the best way possible. With over 10 tasting room's right in the heart of Carmel by the Sea we decided to try a few new ones as well. While looking for Galante Vineyards we stumbled upon Dawn's Dream Winery. Newly located in town after moving from the valley we soon found out that it was started by Dawn, the wife of Jack Galante. Focusing on mostly Pinot Noir, in contrast to her husband, and naming most of the wines after her daughters, our pour guild took us though the tasting list that included an '11 "Rachael" from the Santa Lucia Highlands, an '11 "Nicole" from Monterey and an '09 Carneros Pinot. All of these wines had a soft pleasant aroma, were light at first and then built in flavor on the back end. They all had a nice balance of fruit and mineral, but with the exception of the '09 Carneros were a little rough. They do have all the right characteristics and my guess is that in a year or two they will soften a bit. Unfortunately they were out of the '11 "Alyssa" Santa Lucia, which we were told was the most popular. All Dawn's wines are $30 which after another year or so I think will be a fair price point.
With some land mark tips from our pour guild at Dawn's we did find our way to Galante Vineyards, tucked in behind a small park on Dolores street. Contrary to Dawn's, the new kid on the block, Galante has been making wine since the mid '90's and claims to be the first tasting room in Carmel. Also in contrast with Dawn's is the varietals, likely by design and harmonic matrimony. While she focuses on the Burgundy styles, his is primarily on the Bordeaux style.  These wines were all very big, as you would imagine, with my favorites being the '10 Rancho Galante and the '07 Blackjack Pasture. Both of these are your classic big Cabs with a lot of dark fruit and some tannins but overall very smooth.  At $25 the Rancho is a very good deal but you double that with the Blackjack which is not twice the wine. Our final stop of the day was another new find Silvestri Vineyards. Representing what we all hope to do, make millions doing something we love and then start a winery and do something else we love, owner Alan Silvestri is very well known for his film music and his list of contributions is very long and accomplished. I am not sure what it was exactly, but with the exception of the '12 Estate Pinot Noir, which I liked a lot, all of these wines seemed to have a very similar flavor characteristic to them that I could not help but think was some additive.
Unfortunately we were late trying to make dinner reservations to one of our favorite restaurants in Carmel, Demetra Café, but were told a new restaurant, Yafa, was owned and run by the same family. They were very friendly and welcoming, even giving us all a glass of wine while we waited for our table to be ready. While the food was good, the salmon ravioli especially standing out, it did not stand up to Demetra and I am not sure we will return given all the options in the area.
Day two started at Taste Morgan. While very well-known and having been in the area for a while, it's a little bit off the usual "wine path" and we had not been before.  Greeting us with a cheery "hello",  our pour guild here was very funny and energetic, as great way to start the day. They have quite a few wines on their list and while we did not taste them all, our pour guild was happy to let us taste several that were not on the list for the day. All of these wines were very clean and consistent, what you would expect for a larger but not huge production winery. I found them all very pleasant to drink but nothing really put me over the top. Then it was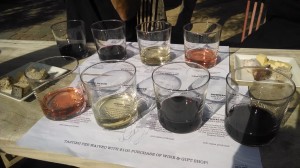 into Carmel Valley and on to the usual wine trail. After a quick stop at the new tasting room of Talbot (very cool with basically a motorcycle museum around the tasting area) we walked over to Cowgirl Winery. A stark contrast to the ritzy glamor of Talbot, the tasting room has a quaint, barn-ish feel to it. They have 4 wines here with the Rosѐ being my favorite. Light and refreshing and not too sweet. Everything about this place, including the wine, is light and fun and it does not seem like they take themselves too seriously. A walk across the street found us at the Twisted Roots tasting room, located in the Lyons Head Art Gallery which used to be the home of the Joyce Vineyard tasting room. This winery is actually located in Lodi and just opened this tasting room in Carmel Valley, I am guessing for the increased exposure. Here again I got a taste of some kind of additive from all the wines except the '09 Petite Sirah which drank very nicely, not like a typical Petite but more like a blend, softer then you would expect. Our last stop, and as usual an almost missed stop due to time, was at Boёtё's tasting room. Located in a very non-descript shopping center closer to highway 1, it's easy to miss but one that should become a regular stop. On a small 7 acre vineyard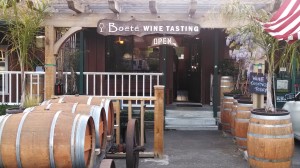 they grow mostly Cab and Cab Franc and their grapes are considered by some to be some of the best in California. As you would expect, these wines are all very big, but not overpowering or rough, they have a very nice balance of fruit, mineral and tannins, and are all smooth on the tongue. Some are a bit more complex, which I like, and some are your typical CA style fruit bombs.  Basically, if you enjoy Cabs, you will find one here to your liking.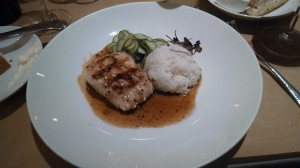 For dinner that night we had made reservations to one of our favorite restaurants in the area, Passionfish in Pacific Grove. We had not been there in a while but it was remembered for its great selection of fresh fish and creative dishes, as well as an impressive wine cellar, and it did not disappoint. Carmel does have many very good restaurants all within walking distance, but nothing like Passionfish, and it's worth the short drive.
Find of the weekend, Boёté. They have definitely made on to the list of must stops when we are in the area. Disappointment of the weekend, interestingly, was Talbot. Their Chardonnays and Pinot Noirs are usually consistently good. However they were a bit weak, almost watered down this time, and did not have their usual complexity.