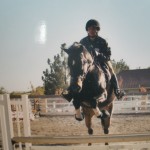 About Hill
A few of my favorite things to do are eat, drink and travel.  I particularly enjoy sharing good conversation and laughter with close friends over delicious food and drink whether it be in a beautiful exotic location or in my own backyard.
I am by no means a food snob or expert in wine but I love both.  I've been fortunate enough to have had opportunities to travel to some great places in the states as well as abroad and have experienced some amazing food, wine, champagne(a favorite), beer(another fav) and tequila. I love to try different things. Each place has something special to experience.
I am a Cali girl to the bone. I love to be out in the sun either on my horse or on a boat.  I am a RN at a very busy ER and work hard to be able to live life to the fullest and do the things I love.  Living in the South Bay makes it easy to visit some incredible wineries and tasty cuisines in Napa, Paso Robles and  our local wineries.  Like I said before I am no expert but I do try and educate myself about wine and food pairings, it is truly amazing how different food and wines influence each other.  Some of the best advice I received while wine tasting in Napa was "drink what taste good to you and don't take wine too seriously",  I think of that every time I'm wine tasting.
I look forward to more adventures in travel, food and wine, hope you can get a little something from what I experience. Click here to read Hill's latest blog.