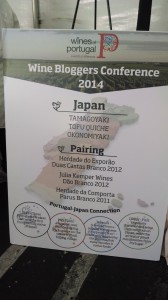 Well the 2014 Wine Bloggers Conference in Santa Barbara is behind us and here are my thoughts on the conference itself and the region we got to visit. I would not call myself a conference veteran but Troya and I did go to the 2013 WBC so I knew what to expect. This was Brax and Hills first time though so I will be interested to hear their thoughts. The concept is to bring like-minded people, wine bloggers in this case, together in a wine-producing region to network with each other, network with the wineries in the area and learn about their chosen craft or hobby in a way that otherwise would not be possible. Oh, and we get to drink a lot of wine too.
This year's visiting country was Portugal. I have been intrigued by this area of the world for a while now so I was excited to taste some of their wines, both with food and in a traditional tasting setting. I was very impressed with the wines themselves and how they paired with a number of foods. While they have a long history of wine making they are just recently being recognized by the wine drinking world. Last year Uruguay was the featured country and we were equally impressed. Now I have another on my "must visit" list.
Maybe it was just because it was my first time but last year I was a little more impressed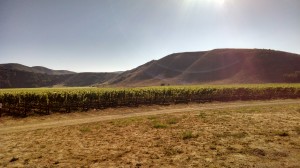 with the break-out sessions. Some of the themes were similar and all of the information was relevant but I thought last year the information was just a little more directed to the world of blogging. We did have a writing critique break-out (sorry if no one notices any improvement here) and while the information was very valuable with regard to writing in general, and writing to an audience, writing a blog is a very different style then print or formal publications so not all of their advice and recommendations were transferable.  It's a little like having a ballet professional judge a hip hop contest. We did get to taste some great wine, not just from Santa Barbara County and Portugal but also from Greece, Chile, Italy and France. Yeh, I know, tough job huh. Unfortunately, unlike last year when they did a great job of show-casing the beauty of the BC area, this time it felt like we spent a lot of time in tents.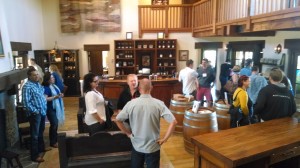 We have wanted to get down to the Santa Barbara area to do some tasting for a while now buts it's just so hard to drive past Paso without stopping. This was a good excuse to get to know the region and its people. Santa Barbara County has 5 official AVA's and have over 200 wineries. Chardonnay, Pinot Noir and Syrah are the big players here but they grow more than 50 varietals. We got to view a press release for a podcast done by Vintage 2014 called "dirt don't lie" that follows the regions growers and wine through the 2014 season. Very well done and more informative than I could ever be so if you want the real low down on the area it is available on iTunes. Bottom line is this seems like a rather close knit group of wine makers that do a great job on their own but also collaborate a lot to produce some very distinctive and pleasing wine. I was able to enjoy several very good wines produced here but for me the wine maker that stood out was Blair Fox. He is the wine maker for Fess Parker but also has his own label. He was pouring a Syrah at one of our events that made me walk away from the crowd so I could enjoy it alone. That good.  I am looking forward to a return trip to the region and will especially look into more of the Syrah's since I was not able to taste very many on this trip.
The highlight of the weekend was meeting and getting to know a bunch of new people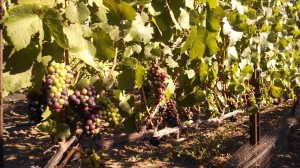 and leaning about the latest and greatest in the world of wine. We got to spend a lot of time with Denelle who works for Vital Vessels, a company that produces "eggs" for wine and spirit production. A very cool concept, similar to concrete, but these are ceramic so they breathe a bit better and their shape allows an internal current to keep the product at a constant cool temperature. This process allows the wine to mature with very little interruption and the end result is a very smooth and flavor full wine. The idea of making wine in an "egg" shaped vessel has been around for a long time but has recently revived (what's old is new again).  If you have not already, I am sure you will come across a winery that is using this process soon (inside tip: Vital Vessels also makes a small-sized egg that is perfect for some viticulture at home). We were also introduced to Wine4.me and Quini, two mobile aps for wine drinkers that might succeed where the some of the others have failed. Wine4.me uses analytics (like the baseball teams) to help identify wine you might like after you enter some data on wines you already know you like and why. It's meant for those that just want to be told what to get with a certain meal instead of guessing or relying on someone who does not know them at all. Quini is a tasting notes aps that is touch screen based and very user-friendly. You can quickly produce a note on a specific wine and then see what your personal ranking of that wine is. You can also put in your own personal notes if you have something specific to say and also see how others are ranking same wine. All of the information is stored on a cloud so you can access your notes from any web-based device to help you recall a wine or pair a wine with a specific meal. While only available on the iphone platform right, it should be available for droid devices soon. With a few updates they are working on this might be enough of an ap to make me stop thinking about creating my own.
All in all it was a great weekend and a great introduction to the Santa Barbara County wine region. We will definitely be back, even if we do have to pass up on Paso Robles to get there. I am looking forward to tasting more of the wines from the area and specifically tasting more from Blair Fox. Cheers!