Returning to a wine region you know and love but recognize has even more to offer poses a dilemma. So much wine, so little time. How do you balance returning to your old "fav's" with continuing to explore the region. Our strategy for our 2 day trip was simple. We would have an old day, returning to our staple wineries and eating establishments, and a new day. As I am sure many already know, Terry Hoage and Kukkula are our go-to's right now. Terry with his array of soft, incredibly balanced blends, and Kukkula with their blends, a bit bigger and not as soft but still very well balanced. Neither disappointed on our first Paso tasting day of 2014. The hardest part about tasting at Terry Hoage is picking a winner. Which would you pick if you could only have one. Fortunately we were not it that position. We left with a few. It has been fun watching Kukkula grow up these last couple years. They are now using only estate grown fruit and it shows. The consistency and balance, while always good from our perspective, is getting better and better. Same dilemma here resulting in the same solution. The trunk was already getting full. We also made a stop to Hearthstone. Our first trip here was during our GSM tour and we were very pleasantly surprised. This time our pour guild was Paul Ayers who was more than happy to deviate from the tasting list to ensure our questions and taste buds were satisfied. The GSM's here are some of the best in the region and the 2012 Pearl was pouring very nice, a bright, clean Viognier blend with many layers of flavors both on the nose and on the tongue. I have a feeling we will be back soon and they will likely end up on our short "go-to" list. We also made a stop at Niner. When we first went to Niner we were impressed with several of the wines, especially the blends and the Malbec. Although on the larger side, something we often try to avoid, we were impressed with the member parties and cooking classes being offered to members. After allowing our usual cool down period and re-tasting the wine we decided to become members. Unfortunately we have not been pleased. Every time we try to sign up for the classes it seems they have already sold out before they even make the announcement. We have also been less than impressed with the wine the last couple times we have been down. We decided we would give it one more chance on this trip. Sufice it to say we were once again surprised and pleased. Maybe not enough to stay members, but we will be back for some of our favorites.
Our plan for day two was to have each one of the Four pick one new winery to try. That meant we had 4 we knew we would be going to and would maybe add one or two along the way depending on advice or tips we would get along the way. Once you get over 5 or 6 tastings in a day you reach pallet fatigue and everything either tastes great or bad. You really cannot discriminate. Our first stop on day 2 was at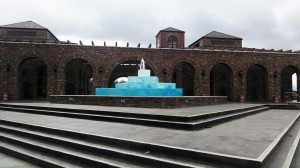 Robert Hall WineryRobert Hall. We usually stay away from the bigger production wineries, and have not spend a lot of time on the east side of Paso, so this was a big break from tradition. There is a lot of money here. From the big fountain in front to the state of the art tasting and banquet area, nothing is subtle about this place. They have even won a recent California State Winery of the Year award. One of the things that sets Paso apart from Napa is even at the bigger production places you will find hospitality that is a rarity in Napa. Christina, our pour guild, was all smiles and very personable. About half way through our tasting she offered to take us on a tour of the cellar and production area. We were impressed with several of the wines here, and the price point is hard to beat. Not the big fruit bombs or the mass production soul-less list of many, these wines had a lot of complexity and distinction. We especially liked the '11 Select Granache, the '11 Meritage and the '12 Cuvée de Robles. The tour was also very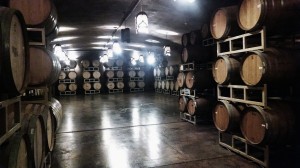 impressive, and if anyone has the means and is looking for an impressive place to have a party or get married, I would recommend looking into what they have to offer.
On a recommendation from Christina we made a small detour from our itinerary to make a stop at Mitchella Vineyard. They have a big list of wines they pour, and with your tasting fee you get several cheese samples to pair with several of the wines. A couple of the wines here were nice and we especially liked the '12 Viognier and the '11 Cheap Bastard, a blend of Petite Sirah, Zin, Syrah and Cab. It had a nice smokey, big flavor to it with a clean finish, not big on the tannins. Our experience here was soured for a couple reasons. The first was we like to share tastings, allows us to taste more wine and limit the pallet fatigue, and the pours here were very small. It was nearly impossible for 2 people to get two small sips (one before the cheese pair and one after) from the pour they were giving. The second was we were there with one other couple, who were obviously members and were getting most if not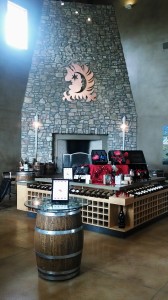 all of the attention. After a short drive across the street we found ourselves at Vina Robles, another larger, out of character winery for the FTF. Bob, our pour guild here, despite being distracted by a celebrity author, did a great job of informing and entertaining us during the tasting. I was surprised at the complexity of the wines here as well, given the size. A big find was the '12 Vermentino, a white wine that is almost like a Sauvignon/Viongier blend. It was very clean, with a lot of layers of both floral and fruit. It is also a steal at $18, a great everyday white that will pair nicely with a number of dishes. We also got to taste the '08 and '09 Syrée, a Syrah/Petite Sirah blend side by side. We were told that informal polling was at about 50:50 as to which people liked, but for me they were so different (interesting because they are essentially the same blend, just one year apart) that I could not compare them. I actually liked them both, the '08 having some typical big Syrah characteristics, pepper, some leather, light tannin, while the '09 was soft and smooth, what you expect for a blend.
From there we were off to our appointment at Denner Vineyards. A far cry from our morning tastings, not just because we were now in the heart of the west side, but also because it was much smaller. You also need an appointment and a pass key just to get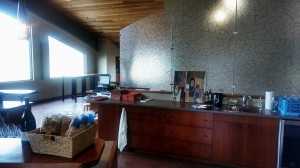 through the gate. I found it interesting that the initial feeling of this place was that it was Denner Vineyards Tasting Roomgoing to be somewhat private and intimate, given the appointment and gate and such, but when you get to the tasting room it felt like any other tasting room with several groups around one table being served by a single host. I was not sure why the appointment was necessary. With the exception of their '12 Viongier, the wines they were pouring here were all blends. As you would expect with names like Ditch Digger, Dirt Worshipper and Mother of Exiles, these were big, earthy blends, all with big flavors but well blended so they all had a softer component to them as well. We were also introduced to the concept of wine making using concrete tanks although it was too busy to get the complete low down on the process.
Our next planned visit was just off the square in Paso Robles, so with a little time left we decided to make another detour and go to Jada Vineyard, just up the road from Denner, and we are glad we did. Ari, our pour guild here, greeted us as we walked in and introduced us to the two tasting menus and let us know that each would also come with a cheese pairing, our second of the day. Offering a number of creatively named blends, the first on our list was a '12 XVC. The only white on our list, this was a very nice Grenache Blanc/Roussanne/Viognier blend, a lot of fruit without being sweet or syrup like. Another of my favorites here was the '11 Strayts, a Merlot/Syrah blend. With about two thirds Merlot it had the dark cherry and other fruit flavors of a Merlot with the softer texture on the pallet but the Syrah gave it a bit of a punch in the middle. The cheese it was paired with did not change it much, but I will be interested to see how it pairs with something more substantial. Most of the wines here are very reasonably priced, my only disappointment was one of my favorites and one of the only single varietals on the list, a '10 Estate Syrah, was a bit on the high end at $75. Although it was busy, and getting busier, Ari took the time to guild us through our tasting, answering all our questions and allowing us to deviate some off the list. He also explained their concrete aging process, which allow the wine to soften more than it would in steel, but does not add flavor to the wine as wood barrels will. Our experience at Jada epitomizes what we love about Paso Robles, tasting great wine, meeting great people and learning about wine and the wine making process in a relaxed setting.
Our final stop, Arroyo Robles Winery, is one of a hand full that are located right around the square in the heart of Paso. While I am generally a glass half full type of guy, I could not find anything redeeming about these wines. They all had a very similar taste, that of some additive that I could not put my finger on but had an artificial sweetener feel to it. Our pour guild here was very entertaining and did some very good impersonations, and without this we would have likely left before we got to the sparkling. I will say this, the Grand Cuvée was a nice sparling for $16, but not enough to make me want to return.
Dinner that night was not exactly a new experience, Brax and Hill had been there before but were more then up for a return visit to Buono Tavola. A small little Italian restaurant just off the square. We arrived early with the thought that we could enjoy a drink at the bar before dinner, but our table was ready. The drink menu had some interesting options, unfortunately none of us were impressed with the final product. The food on the other had was great, especially the pasta. My only complaint is that it was a bit Americanized. What do I mean by that, well if you have had authentic Italian you know that they do not put so much sauce on the pasta that you can barely taste the noodles. Here they had all the ingredients and flavor in the noodles and sauce to keep it authentic and achieve the balance between the two, instead they went the American rout and drowned the noodles with sauce.
Final thoughts. Our true favorites did not disappoint and their position remains unchanged. We may have some additions to the short list, stay tuned. Find of the weekend……Jada Vineyards. Exactly what we look for and love about Paso!