Freeport- Grand Bahamas
As promised the FTF tries to do at least on international trip each year. Last year we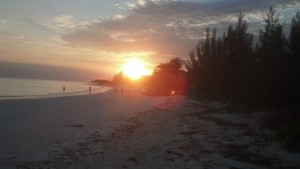 went to St. Maarten. The experience was mixed for me due to reasons I will not go into. We had originally planned to go to Belize this year, but procrastinated a bit and could not make the dates fit with the availability. Brax still wanted to get in some warm water diving and was able to find a place at the Island Seas Resort in Freeport and off we went for a week in the sun. I tried to complete my scuba certification so I would not be a liability while we were there, but that did not end up happening. I was able to complete the book work on line prior to our departure and made arrangements to complete the certification while there. Here are my highlights and thoughts on Freeport in the Grand Bahamas;
Scuba diving/certification:
To complete your open water scuba diving certification you must complete both the book work portion and diving portion. Brax and Hill are both certified and several of the people that travel with us also are certified. Troya and I did and introduction dive while in Australia, and then I did some supervised dives while in St. Maarten last year. I figured that since this was going to become a major source of recreation while on vacation I should get certified. I looked into getting certified before we left, but for a number of reasons that did not happen. I was able to complete the book work portion on line (it can be done with your dive master or on line). I then looked into the certification programs available in the Freeport area. There are basically 3 dive companies around Freeport and only 2 offer certification programs. Unexso is a very large, commercial company that offers a number of different activities including scuba diving and snorkeling. I contacted them about their certification program but they never got back to me. The other company, Sunn Odessy, is much smaller, and run by the Roll family. I contacted them by email and they were very responsive and we were able to arrange a program that would start the day after we got there. Although there was a little confusion when I first arived, Nick was very flexible and set up a schedule for us to finish the program by the 3rd day. Nick and I got along fine, he is at times no-nonsense, and I could tell that if you came ill prepared he would likely have little patience. This is a small company, so if you are looking for bells and whistles this is not the place. However, if you just want to scuba in the Bahamas with an instructor who knows the area, knows what he is doing and can be flexible, Sunn Odessy fits the bill. The diving we did here was much better than what we experienced in St. Maarten, not as good as the Great Barrier Reef in Australia (but how many places are). That is the extent of my experience, so if you are looking for a more experienced opinion look at Brax's or Hill's Freeport blog.
Island Seas Resort: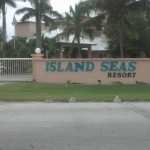 The resort is a time-share resort. A little off the beaten path, it is not located near downtown or the port area. We reviewed the resort on-line so we had a good idea of what we were getting into. I think that Troya and I both were expecting the worst to ensure we were not disappointed. In actuality the rooms were better than we had anticipated. All are condo style units with a full kitchen and 2 bedrooms and 2 bathrooms. The unit was big and clean. The resort itself did not have much to offer. They have one pool and a pool side bar. The do have a swim up bar, but it was not being used because the water in the pool was too cold for anyone to get into. The resort did not feel crowded, but finding chairs or recliners poolside was challenging. Troya and I got there early, several hours before check in and were told we should be able to get into the room early. In reality it was over an hour after check in before we were able to get into the room. The resort and beach were clean and they had kid/family games happening at the beach, but not much else happening. The workout room was also disappointing, 4 different cardio machines and a rack of dumbells in a very crowded room. The biggest disappointment was with the staff. I could not say anyone was out and out rude, but it felt like they were all very indifferent. They would help if asked, but were not very friendly and did not go out of their way for anything. We initially thought it might be just an island thing, but found the customer service was much different in town and at some of the other resorts.
Dinning:
The first night there we decided to play it simple and just eat at the one restaurant at the resort. Earlier we had some lunch pool side while waiting for the room to be ready and the Greek salad with chicken was actually not bad. They had an Italian all-you-can-eat buffet for dinner that night which ended up being frozen style pizza and other cafeteria style food. Not impressive. The following night we went to Cyrus, a local restaurant in town recommended by our befriended taxi driver and tour guild Dave. A little side note, we always try to befriend a local when traveling to get an idea of how to truly experience and area rather than just follow the typical touristy path. This was a little hole in the wall (my favorite type of place) with lots of local sea food options. We were all very happy with the food, the local classic cracked conch was particularly good. The following night we had walked to a couple local beach side bars (head out the resort, make a right and walk down the beach, easy to find). On the way was Michelles. A little kitchen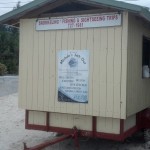 on wheels that she parks next to the resort and serves up what she claims is the best jerk pork or chicken and conch on the island. After a few drinks we decided to take her up on her challenge and bring some of her food back to the room. Again, everyone was very pleased with the jerk pork over her rice and beans being the best dish hands down. You can also not beat the price, two lobster tails with beans and rice, steamed vegetables and fried plantains for $15. The following night we took the shuttle to the Port Lucaya Marketplace to check out some of the options there. We were all starting to get hungry and were trying to pick a place to eat out of numerous but underwhelming options when we ran into Genny. After a brief chat with her giving us some needed directions we decided to "ask the local" again to see where she would recommend eating. Low and behold she was off to work at Giovanni's, an Italian restaurant she and her husband owned. No one had Italian food on top of the list given we were in the Bahamas, but it did not take long for her to convince us once she started describing what was on the menu. I am happy to say that you can find excellent Italian food in Freeport. Most dishes do utilize the abundant seafood in the area. We were all very surprised and pleased with our meal.
The next evening we went back to Agave where we had a few drinks the night before and thought some of the items on the menu looked promising. Troya and I shared a jerk chicken burrito and spicy seafood bowl. Both items were very good and we were impressed at the different flavors and spices used in the two dishes. Wednesday on the island is fish-fry night. Dave let us know about this and said everyone on the island comes out for this event. The impression I had was something akin to a bunch of food trucks lined up offering different options and then a local band playing music on the beach into the evening. In actuality it was a bit more commercial and organized than I had anticipated. Several restaurants are right there on the beach, and then as you walk either inland or along to beach several other properties have built accessory kitchens and dining areas so they can participate in the festivities. Interesting since I think it only happens once, maybe twice a week. It was fun because we went to several different places to get the food, so we had a lot of variety. Hill and I ended up picking the best place (can't remember the name but it's near the end of the road along the beach and is the only place with a full bar). I do not know if any of the places actually have names, but again at the advice of locals we went as far down the road as we could from the main area, that's where to best food is we were told. To our disappointment the music ended up being club style dance DJ music played at one of the main restaurants. The final night we decided to go back to Cyrus's. Not sure why, maybe we were just getting tired of fried food, but it did not impress the way it had the first night. Over all feeling about our food adventure in Freeport, we were all surprised and impressed at what we had, especially after our dining experience in St. Maarten (not real impressed). Nothing out of this world amazing, but I was impressed with the variety and flavor.
Activities: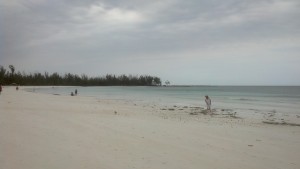 Scuba was covered above, so I will not go into that again. We did do a swim with the dolphins program through Unexso. Although very expensive it was a lot of fun and the crew very entertaining. Here is where Freeport comes up short in my mind. Although I do enjoy hanging out on the beach or by the pool, I get restless when I have no other options. Outside of scuba and some other boating exertions, Freeport does not have much else to offer. What it does have to offer all seems to be tailored to the cruise ship clientele.
Final thoughts:
When I travel I try to submerge myself into the area to get an idea what it is like to live there and how things are different or the same as where I am from. I do this by spending time in one area, getting to know local people as much as I can and getting off the beaten path. I kept trying to do this while in Freeport but always ended up feeling like I was having a cruise ship experience (if you are not sure what I am talking about ask me about it and I will go into more detail for you). I kept trying to figure out why I could not get any deeper into the culture there and then it came to me on the last day, that is their culture. This is a vacation island, set up as a tourist destination for cruise ships or people looking to lay around on the beach and drink rum for a couple days, and maybe go on a pre-planned excursion. Everything on the island is set up to support this industry. So in the end I guess I was able to find the culture of Freeport. Not what I usually look for in a vacation destination but if that is what you are looking for have at it.