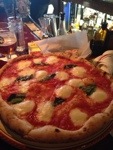 The concept was simple, find the best pizza in San Francisco. But in a city that prides itself on both its diversity and being a foodie mecca, it proved to be quite a challenge. Depending on who you believe, San Francisco is either home of the best pizza in the nation or not even in the top 10 (a low blow to such a gastronomical city). Not that I have tried, but if you attempt to have a debate with any true San Franciscan they will immediately pull out the "but we have Tony's" card. That would be Tony's Pizza Napoletana in North Beach, home of Tony Gemignani who has won the Word Best Pizza Championship in Italy 11 times. How do you argue with that? So after hours of research (over 200 options) we narrowed it down to 12. We had 3 days, which meant 4 pizza's per day. Nirvana for some, repulsive to others.  How would our taste buds and waist line hold up?
Day #1: We started our trip at Tony's Pizza Napoletana. Had to, right? Set the bar high and create a litmus test for all the others. The crust, wood fired (as it should be) was incredible, great texture with a slight char on the outside and moist and chewy on the inside (hungry yet?). The sauce was very light but flavorful and it had just the right amount of cheese. A bench mark if there ever was one. From there it was walking distance to Golden Boy Pizza. This place gets a lot of run and has a lot of believers, but for me, while physically around the corner from Tony's, they are miles apart. The toppings were good, flavorful and fresh, but the crust reminded me of Little Caesars. From there it was off to Pizzetta 211. A very cool neighborhood spot out on 23rd. The crust had nice texture but not a lot of flavor. The toppings were very creative and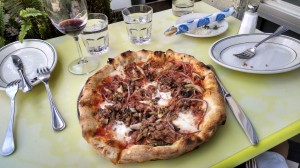 simple, not piled high, but had great flavor and balance. The place is very small so either go early, be prepared to wait, or get take out. Our final stop of the day was at Little Star Pizza in the Mission. It was late when we got there and the place was still full. It's a fun place with a lot of character. This was the only Chicago style place on the list but they also have thin crust. The toppings were the star here, on both the Chicago and thin style. I liked the flavors and the sauce/cheese mix in the Chicago style but I was not a big fan of the crust for either style, a little dry.
A side bar here, this trip would have lasted about 30 minutes without the help of google maps. I cannot tell you how nice it is to be able to drive along, listen to some music, have a nice conversation and occasionally be reminded to "turn right in 600 feet" while on your way to some place you have never been rather than screaming at each other because we just missed our turn and now are completely lost. I do wonder how many marriages have been saved by this technology.
Day #2: Woke up feeling good and hungry, surprised but happy.  Our first stop was Arinell Pizza in the Mission. This is a classic, NY style pizza by the slice joint. No tables, a few benches along the wall, really meant for grabbing a slice, fold it up and eat it on the run (yup, NY style). For what it was, I liked it a lot and it tasted just like the hole in the wall pizza places you find on every corner in Gotham. From there it was a short walk to Pizzaria Delfina. This is a very cool spot in the Mission with a lot of sidewalk tables and some very creative pizza combinations. The crust here was light, not real moist or chewy but still had good texture. The toppings were very flavorful and not too heavy or greasy. After a walk around the city to build up an appetite our evening started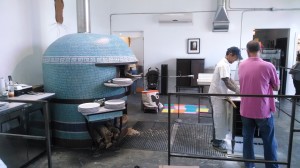 at Una Pizza Napoletana south of Market on 11th. This place only serves pizza and salad. You get to watch your pizza being made because it's an open kitchen and the pizza is made front and center. While the toppings are great, simple and classic yet well balanced and flavorful, the crust here is what steals the show. Also wood fired, with the oven the main fixture in the whole room, what comes out can only be described as magic. Everything you want in a crust, a light char on the outside for flavor and texture, moist and chewy on the inside with a hint of SF sour dough, was right here. To follow that up we headed over to Flour and Water. One of the "go-to's" in the city right now you will need to either make reservations early or be ready to wait. Fortunately they have a couple of good bars close by and will text you when your table is ready. The pizza here was good, come creative combinations with interesting toppings however some combo's seemed a bit over the top. The flavor was good and the crust had good texture but was a bit salty.
Day #3: I was ready for the home stretch but Troya had flamed out by Flour and Water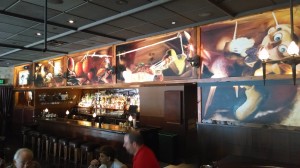 and needed a pep talk to get back out on the pizza trail. With motivation restored we headed to Zero Zero on Folsom. This is a very cool place which has a great little bar and some very creative drinks on the menu. Troya was eyeing all the brunch items coming out of the kitchen, but we stuck to our guns and got the pizza. They have more traditional toppings and combinations then some of the other stops and it was a bit heavier and greasy then most of the others, but good none the less. I would like to come back here with a group of friends because it seemed to have that kind of vibe. From there we made our way south to PizzaHacker in Bernal Heights. Not wood fired but they use enough heat to get a bit of char on the crust. The crust had a lot of flavor, more so after it cooled interestingly. Flavor was the theme here and this pie had the most pop and flavor rush of any that we had. Just what you would expect with a name like Hacker.  And sadly this is where our trip ended. We still had 2 on the list, Long Bridge on 3rd and Gialina Pizzaria in Glen Park, but neither was open during the day on Sunday so our list was shortened and our coronaries saved.
So, after 3 days and 10 Pizza stops, the winner is………….(drum roll)……………….
#1- Una Pizza Napoletana- hard to believe some place could unseat Tony's, but the crust, the crust, what more can I say.
#2-Tony's Pizza Napolentana- still tried and true and where I would go if I want to be transported back to Italy and our pizza roots.
#3- PizzaHacker- this was the most difficult choice but they edged out the others with their flavor bomb of a pizza.
Of the runner ups here are some categories for the others; Romanic date night spot- Pizzetta 211 and Pizzaria Delfina. I want to impress my date spot- Flour and Water, food will be good and if the date is going bad its great people watching place with lots of living stereo types. Place to gather and feast with friends- Little Star and Zero Zero.