Hill and Troya got us a deal on the hotels and Doc picked the wineries. All I had to do was show up. Doc decided to go tasting at wineries that made GSM's (Grenache, Syrah, Mourvedre) GSM blends are very popular in Paso.
First stop was Kukkula. My favorites were the Pas de deux, Aatto and Sisu. The 2010 Vaalea was lite and refreashing and at $22, a bargin. Kukkula wines range in price from $22 to $40. Their GSM blend is the Sisu. The 2007 Sisu at $30 is a good buy. On to Alta Colina. The 2010 Baja Colina Rhone Red is their GSM blend. They only made 225 case and it is reasonable priced at $28. I liked their 2010 Ann's Block Petite Sirah but I thought it was over priced at $48. Next on the list was Villa Creek. My first impression was "expensive". they have three GSM's. 2010 Willow Creek Cuvee, 2010 Avenger and the 2007 High Road at $100. The High Road was my favorite but at $100???? Come on man. Next stop was Hearthstone. Their GSM is the 2008 Lodestone. It is 15% alc and I bought a bottle for $30. Hearthstone also has a 2010 Pearl that is 60% Roussanne and 40% Viognier. If you like white wines, you will enjoy the florals and butter cream texture. $26.
On a whim, we stopped at Windward. They only make Pinot Noir. We ended up leaving with two bottles of their 2008 Estate Monopole. We then headed to our last stop for the day, L"Aventure. L'Aventure's GSM blends were the 2010 La Suite and the 2010 Cote a Cote. These are small production wines and they are priced at $75 and $85 respectively. I enjoyed all of their wines but I thought they were a little pricey. If you like Roses ,like I do, then you will like the two they make. They have a Sangiovese and a Grenache. I bought two of each.
We ended day one of our tour with dinner at Villa Creek Restaurant in downtown Paso Robles. I had the Lamb shank. Tender meat falling off of the bone and then it just melts in you mouth. Delicious.
We started day two at Kenneth Volk. One of our favorites. We picked up a bottle of the $36 2009 Tennat and the 2009 Mourvedre. One of my favorites was the 2009 Bien Nacido Pinot Noir. But at $60, I thought it was over priced.  Niner Wine Estates was next on the list.  They did not have a GSM for tasting.  They have a 2009 Cabernet Sauvignon for $32 that is very good.  Zenaida Cellars was next.  They have 13 wines on their tasting list.  Zenaida is one of the few wineries that have moved away from corked bottles.  The 2010 Wanderlust is their GSM.  I found it to be lite on the tongue with smooth texture.  We left the winery with bottles of their 2010 Wanderlust, 2009 Fire Sign (Cab Syrah Zinfandel blend), and the 2010 Zinfandel. After our enjoyable time at Zenaida, we set off for Pipestone.
Pipestone Vineyard is 100% solar and they use horses instead of tractors in their vineyard.  Their GSM is the 2008 Rhone Style Red wine.  It was fruity with hints of berries and aromas of red cherries.  At $32 I thought it was a little over priced but I did buy a bottle.  Next was Terry Hoage Vineyards.  What a find.  They had four wines on their tasting list.  2010 The Pick ( a Grenache, Syrah, Mourvedre, counoise blend), 2010 The 46 (50% grenache, 50% Syrah), 2010 5 Blocks (Syrah, Mourvedre, grenache, cinsault blend), and the 2010 The Hedge (Syrah).  Terry Hoage is a small producer.  They only make 200-250 case of each varietal.  We loved their wines and we left with a bottle of each at $43 a bottle.
We headed back to town to try some of the tasting room around the town square.  If you like Spanish Varietals, you will love Bodegas Paso Robles.  We stopped in at Parrish Family Vineyard and tried their 2008 GSM Rhone blend.  It was nice but a little pricey at $34.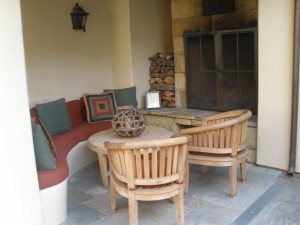 We spent the second night in Paso Robles at Cheval.  Troya and Hill hooked us up or this would have been out of our price range.  The rooms usually rent for $250 to $325 a night.  If you are one of those that can hang in that circle, I highly suggest you stay at Cheval.  We grabbed dinner from the cheese shop next door and we sat outside by a roaring fire, next to our room, and enjoyed good company and good wines.  A perfect end to a fun and enjoyable weekend.