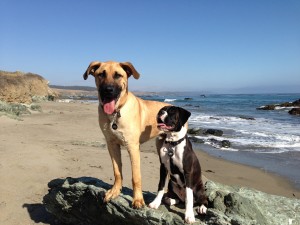 Brax and I took a quick trip to Paso Robles on our way to stay at a cute little motel in Cambria I found thru Living Social. We had a wine pick up at Kukkula so of course we had to do some tasting, never a disappointment. Kevin gave us some suggestions for a couple other wineries to check out. From there we went to my other boyfriend(Troya's BF too),Terry Hoage. Evan was pouring so he filled us in on some of the new stuff we hadn't tasted the last time, one wine being the rose which was lovely. Needless to say we belong to another wine club. Caliza was our next stop, one of the recommendations from Kevin. Pam was great there, very informative and friendly and turned out she was from Cambria so she had some good suggestions. Caliza's wines were very good, they had a very nice rose called Pink, very crisp, fruity but not sweet.  They also had a very good Primitivo, we bought a bottle of both. Our next stop was Epoch, another of Kevin's suggestions. Again good wines and very friendly staff, the girls was very friendly and helpful. Epoch had a nice rose too, if you haven't noticed I am a big fan of the rose. It's a great summer wine! They also had a GSM that was good but I think a smidge on the pricey side at $65 a bottle. The Estate Blend was also very good and not outrageously priced at $40 a bottle.
After we left Epoch we headed to Cambria. I had never been to Cambria but have several friend's that have stayed and really loved it so I was really looking forward to it.
We made our way to Cambria and found the Cambria Shores Inn. If you like to travel with your dogs this is a great place to stay. We brought both of our dogs and when we arrived they had a welcome basket for the them. The room was very nice, nothing fancy but neat and clean. They put a sheet over the bed so your dogs can get on the bed. There was a fireplace, small fridge and coffee pot…necessities. The shower had the large overhead shower head that was pretty awesome. The motel is located across the street from the beach so a great view. The grounds have several grass areas with chairs to relax, drink some wine and enjoy the view. Unfortunately no dogs are allowed on that beach but a few miles down at San Simeon State Beach is dog friendly. Our dogs had a blast!!
We went to the Sea Chest for dinner, they only served seafood. Lots of fresh fish choices but I ordered the shrimp scampi with pasta and Brax had the shrimp and scallop scampi with pasta. Both were very good, huge portions. We had some very yummy escargot as an appetizer too.
The next morning there was a picnic basket hanging outside our door. It had fresh fruit, OJ, yogurt, little packaged pastries, and a bagel. I really enjoyed this motel, I'd definitely come back. I think with the Living Social deal it was $129/night so I'm not sure what it normally is.
We went to breakfast at Redwood Café which was delish!!! On our way out of Cambria we went to taste at Harmony Winery. A friend of ours belongs there so we wanted to try it out. They had a Pinot Gris that was very nice as well as a rose otherwise I wasn't impressed. Of course on our way out of Paso we had to stop at Kenneth Volk because I'm on a quest for more Blaufrankish which of course they won't have til maybe the fall. Needless to say we found a couple others we really liked like the Mouvedre, Touriga and Syrah. By the time we headed home my liver was thanking me. Until next time…..happy eating, drinking and travels!!!