After a year of talking about it and several weeks doing our research and speaking with those that know more than we do the FTF loaded up to start our GSM tour of Paso Robles. The idea came to us last year as we were doing some tasting and talking about all the press GSM's were getting recently. If you know anything about GSM in Paso you know it would not be possible to taste them all in a weekend trip. We needed to do some weeding out before the trip started. We also wanted to venture out and discover some new Paso gems. After doing our homework and discussing our options we put together our highlight list.
Our excitement grew as we headed south on 101, so much so that we almost missed our turn on San Marcus Road. Actually we frequently "almost miss" this turn and after several near roll-overs have decided that it should be much better marked. It was hard to pass up some of our usual stops on our way to Kukkula, but we were on a mission. We have all been here several times before, Brax and Hill are members, but they have a great GSM and we knew they are just starting to pour some of the estate grow vintages. On this day they were pouring both the 07 and 09 sisu (technically a SGM based on percentages, but who are we to quibble). It's always fun to taste the same wine of different vintages to experience how different wine will be year to year. These two wines were tasting quite different on this day. The 07 had a very light berry bouquet, was well balanced on the tongue with a clean, smooth start and dark berry finish. The 09 had a more inky bouquet with a hint of fruit, and was sweeter on the tongue with a clean, slightly smoky finish.
Our next stop was Alta Colina. This is a very small winery we had never been to before. The Rhone Rangers had found a GSM there that was well liked so we figured we should give it a try. Their two blends, the 09 Mourvedre (MSG-Brax was hoping we would find one of these) and the 10 Baja Colina Rhone Red (SGM) were both much more of a Bourdieu style blend then many of the other fruit forward Paso GSM's. We all found these a little rough but they would be fun to try again in about 3-4 years.
Then it was off to Villa Creek. Without putting the two together, we had made reservations at their restaurant that evening for dinner about an hour before. Great place, wonderful food in downtown Paso. They had not quite finished the tasting room here so we tasted in the cool dampness of the wine cellar. I mention this only because it is difficult to let a wine open up when you are tasting it in a 50ish degree environment. They were pouring 3 different blends that qualified for our tour. The first, the 10 Willow Creek Cuvee, at true GSM, had a very nice dark fruit bouquet and the same qualities on the tongue with a nice clean finish. The 10 Avenger had a little inkiness to the bouquet and some cherry flavors at the back end. Both of these wines were well liked but seemed a little steep at $45 apiece. The last tasting was the $100 High Road, The End of The Road. This was a very smooth well blended wine with no rough edges but again not quite worth the price.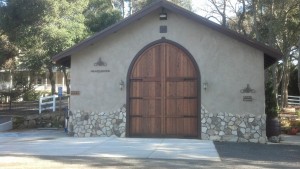 From there we headed down Vineyard Drive to Hearthstone. This was our first time here as well. Josslyn, one of the managers, was pouring today and gave us a wonderful reception and an even better tour of what they had to offer. To keep things fair I will only mention the GSM in this blog, but definitely look forward to a full report on all of the various wines Hearthstone has to offer. The list is long with a number of different classics and interesting blends. Their GSM offering has a very light berry bouquet and has a predominant dark fruit/berry taste with a smooth clean finish. Exactly what you look for in a GSM.
Our last stop of the day was L Adventure at the very end of Live Oak Road. Not the type of winery you expect to find at the end of a long dirt road. All of the wines they were offering this day were blends and two of them classified for the GSM tour. The first, 2010 La Suite had a more earthy bouquet then many of the others with classic dark fruit on the tongue but also a little tannin at the end. Their signature GSM blend 2010 Cote a Cote had very similar properties but a bit smoother. All of their wines were well blended and smooth, but a bit on the high end at $45-$85 per bottle.
We figured it was a good time to check into the hotel while we could still walk in a straight line and formulate sentences. We were actually all very proud of ourselves as we shared tastings all day and even after five wineries we could still distinguish the various properties of what we were tasting. On second thought maybe we should be worried, oh well. In keeping with our theme of trying new things, we had made reservations at the Paso Robles Inn. In a nutshell, comfortable, clean rooms, not a lot of fan-fare. They do offer rooms with sulfa spring tubs, which we opted for, but the heating mechanism for the water was not working so we did not get to try this experience.
We were up early the next morning (for vacation) and after a quick breakfast at Joe's, need we say more, we were in the tasting room of Zenaida Cellars by 11:30. Having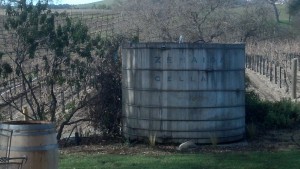 never been here either, we were again surprised at the number of wines they offered. The GSM on their list, the 10 Wonderlust was a classic, well balanced, smooth GSM with all the dark berry flavors you would expect. A very nice surprise.
After a drive up Niderer Road, with several stops to admire all the roaming deer, we came to Pipestone Vineyards. Dedicated to sustainable and organic farming, they have a pair of draft horses they use to do farming in the vineyards. I have tasted at other organic vineyards before and honestly was expecting more of the same, somewhat rough, earthy wines. Those pre-conceptions will leave as soon as you start tasting their wine. Their GSM offering, the 08 Rhone Style Red is actually a Melange/Syrah/Grenache blend. It had a light bouquet but came alive on the tongue with a clean balance of fruit and a hint of tannin on the back end. All of their wines were much cleaner and smoother than I expected.
From there, along several other dirt roads, it was on to Terry Hoage Vineyards. Which brings up the age old question, can someone go from terrorizing receivers as a defensive back in both college and the NFL to making phenomenal wine? With an N of one, I will say yes. This was definitely the find of the weekend. Troya and I almost came to blows because she wanted to dismiss our rule of not becoming members at the first tasting right there and then. All of their wines are blends, and interestingly all priced the same. The GMS blend, the 2010 The Pick was, forgive the metaphor, a pick 6. Like all the wines here, it was velvety smooth, with a light pepper bouquet and balanced dark fruit and pepper on the tongue with a clean finish that lasts. The price is a little high at $48, but these are worth it!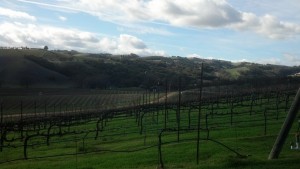 After checking into the Hotel Cheval we walked around town a bit and then ended the GSM tour where the whole idea was born at the Parrish Family Vineyard. As I remembered, the 08 GSM Rhone Blend had a very jammy bouquet with well blended dark fruit on the tongue and a long berry finish.
My final impressions for the Paso GSM tour of 2013. Winner for the basic, everyday GSM would be a 3 way tie with Hearthstone, Zenaida and Parrish Family, all in the mid $30 range. Overall winner and find of the weekend, Terry Hoage!