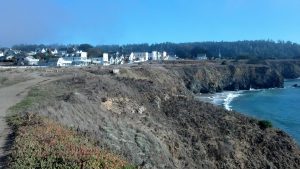 It should come as no surprise when I say that Paso is our favorite place to go wine tasting. For many here in California the idea that anywhere other than Napa would be first on our list would be heresy. And while you cannot argue with the product that comes out of Napa, there is more to wine tasting then just the wine. This got me to thinking about what actually makes or breaks the experience and how to describe it. Given all the discussion terroir has gotten lately, I thought that the terroir of wine tasting is the best way to describe it. Terroir, the French word that is loosely translated to "a sense of place", is used to describe how the geography, soil and climate influence the final product of what is grown there. Essentially saying that the surroundings determine what the wine will be. Taking this a step further, I say that the surroundings, ie: the warmth, friendliness, sense of community, determines the wine tasting experience. The terroir of tasting. And here is where Paso beats Napa, hands down.
This brings us to Mendocino. Troya has wanted to visit this area for a long time now and although we had just done a joint birthday trip I thought I would surprise her with a little weekend getaway. To be honest, I was not as intrigued with this area as she was. The last time I was in Mendocino was as a child and all I could remember was cold, windy and harsh. I understand why this area has a hard time recruiting wine tourism since if you are driving north to get there (and most will be) you have to pass Napa, Sonoma and Healdsburg. But those that can keep their car going straight on 101 past its more famous relatives are in for a treat when they get there.
There are 10 AVA's in Mendocino County, with Mendocino and Anderson Valley being the largest and most widely recognized. In general, the Mendocino AVA is along 101 and Anderson Valley is along 128, which cuts a North West path from 101 to highway 1 and the cost. Since our time was limited, we focused on the Anderson Valley area and its surrounding smaller AVA's. I thought we were only going to be able to get out for one day, but since the drive was quicker than expected we got the chance to make a couple stops on our way to our B&B in Mendocino. One of our first stops was at Navarro Vineyards. We later learned that this is one of the pillar wineries of the area, but you would never know it when you were there. Mark, our pour guild, set the tone for the whole weekend. Warm and friendly, he greeted us with a big smile (not what you would experience at one of the "pillars" in Napa). He presented us with a tasting list, but soon found ourselves off the list comparing different years and vineyards. With the weather pattern and costal influence, Pinot Noir is what the area is best known for but with many micro-climates they are able to grow a variety of grapes which is apparent by Navarro's tasting list. Here we were introduced to Edelzwicker, a white wine that tastes like a love child of Viognier and Riesling grapes.
 Our next stop, at Marks recommendation, was at Phillips Hill. Again, one winery recommending another smaller, competing winery is something you get in Paso, but not often in Napa. They had three different Pinot Noir's they were pouring and we could not decide which one we liked the best. They all had the classic big dark fruit you look for in a Pinot, were well rounded and smooth, and could be paired with food or enjoyed alone.
When we finally made it to our B&B, I knew the weekend was going to be special. After our stay at the Ahwahnee Hotel I realized that there is a line, all be it subjective, between elegant antique and tired. For this trip I knew we wanted the B&B experience, but wanted something a little more modern. By the pictures on-line I felt like the Blue
This slideshow requires JavaScript.
Door Inn fit the bill and when we got there I could not have been more pleased. A remodeled costal-Victorian house in the heart of Mendocino it was the perfect blend of old world beauty and new world style. From the warm front room sitting area with fireplace going and light horderve and wine waiting for us, to the king sized bed with in-room fireplace, I cannot imagine staying anywhere else when we return. And if that was not enough, the Inn Keeper Nan prepares some of the most visually and gastronomically appealing breakfasts you will find anywhere. Trust me.
That evening I had made reservations for the Farm-To-Table dinner at the Glendeven Inn & Wine Bar[n]. I had read good things about the wine bar[n] and they featured many local wines, so we decided to go a bit early and try a glass or a flight. Unfortunately what we found was that while they did have many of the local wines to be purchased by the bottle, they only had a few select wines open for tasting. Our disappointment did not last long however, once dinner started. A five course meal with an optional local wine pairing. Highlights from the meal were a spinach and gruyere tart paired with an 09 Rivino Chardonnay. A great pairing of the tangy tart and a sweeter Chard. The other course that stuck out was the grilled pork tenderloin with cranberry served with a 09 Jim Ball Pinot Noir. Also a great pairing.
The following day started with our phenomenal breakfast prepared by Nan at the Blue Door, then we were off to Esterlina Vineyards, one of the few wineries in the valley that require a reservation. The 10 Pinot and the 08 Cab stood out here, but all of their wines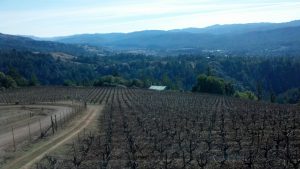 were a little rough around the edges. I will be interested to see how they taste after maturing for a couple years. It was still worth the stop for the views from the tasting area down into the valley. From there it was off to Goldeneye. Part of the Duckhorn Vineyard group out of Napa, the tasting experience here is a great balance of Napa pomp and Medo warmth. Doug, our pour guild, took pride in remembering and addressing everyone by name and quickly getting to know you and making you feel comfortable.
This slideshow requires JavaScript.
We were served our 6 tastings out on the back patio overlooking the vineyards and hills of the valley. It was a warm sunny afternoon and we could have stayed there all day had we brought a picnic lunch. The wines also deserve mention, soft, well balanced Pinot's with classic dark fruit flavors. The price point here was a bit higher than many others in the valley, but for the most part you are going to pay in the $40-$50 range for your typical Anderson Valley Pinot. After our obligatory stop at Roedere Estate, what more can you say about their famous bubbly, our last stop was at Handley Cellars, and were glad we did. Here we found a lot of variety not found in a lot of the other wineries, did not taste a bad wine, and they had a great price point.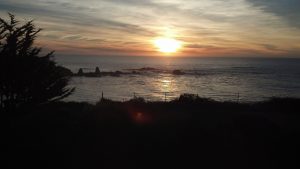 On our way back we stopped in at Ledford House for a pre-dinner cocktail. Situated right on the coast with panoramic views of the water, I highly recommend coming here at least to enjoy the sunset. We did not stay for dinner, but they had some interesting selections on the menu. For dinner that night we chose the Mendocino Café, and interesting coastal/Asian fusion place. Our soup and salad here were great, but the entrées left a little to be desired. Sort of felt like they had not really found their identity yet.
Final thoughts, I enjoyed our time in Mendocino much more than I anticipated. As I have mentioned, we prefer Paso Robles over Napa because of the experience, the terroir of tasting, and we found the same feeling in Mendocino. It is definitely worth the drive. Find of the weekend, Phillips Hill, great wines that are a little under the radar, for now. We will be back, hopefully with Brax and Hill and hopefully soon.