I found a Sonoma getaway on Groupon and booked the date.  With great anticipation,  Hill and I loaded up the Monsters and headed up to Sonoma to experience their wines and hospitality.  We stayed at the dog friendly Best Western Plus Sonoma Valley Inn.  It was an above average room located within walking distance of the town square.  There was a dog park and walking trail right off of 1st St. W., also within walking distance.  You can spend the whole day at the tasting rooms just off the square.  We found one of our favorites from Healdsburg had opened a tasting room of the square.  MacLaren Tasting Lounge has some of the best Syrahs I have tasted.
On the drive up to Sonoma from the bay area our first stop was at Domaine Carneros.  Hill loves the bu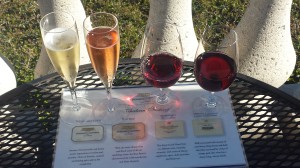 bbly and Domaine Carneros was a recommended stop.  I enjoyed the Brut rose. It was fruity, flora with a hint of tangerine on the finish.
We left Domaine Carneros and drove across the street to Cuvaison.  What an unexpected surprise. Our Pour Guild was Pina, Patty, and Paul.  They were awesome. Very attentive, knowledgeable, Personable.  I learned a lot about Cuvaison wines from them and from tasting.  Their 2011 Kite Tail Chardonnay has aromas of citrus, popcorn and butter, with mineral, lite fruit and floral notes on the tongue.  The 2012 Estate Pinot Noir was floral on the nose, with raspberry, strawberry and a little spice on the tongue.  Tannins and acidity balanced remarkably. One of my favorites.  The 2011 Brandlin Estate Cabernet Sauvignon is 85% Cab, 9% Petite Verdot, 6% Cab Franc.  It has good legs, nice black cherr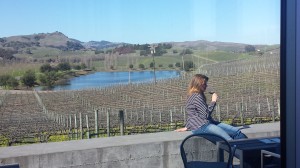 y color and lots of dark fruit on the tongue.  It is well balanced with hints of caramel and toffee. 2011 Estate Syrah has long legs and deep dark color.  It is smokey, peppery with hints of bacon and black cherry and supportive tannins.  2010 Estate Merlot is 86% melot, 14% cab.  Jalapeno pepper on the nose and palate, long legs, dark color.  Smooth and silky.  The Noblesse Desert Wine has a nose of apricot and Meyers lemons.  It is not overly sweet with a lite lemon finish. The price points for Cuvaison are right on. I enjoyed all of their wines and Cuvaison is now on our "To Join" wine club list.
We said goodbye to our new friends at Cuvaison and headed to one of favorites, Patz and Hall.  They have just opened a beautiful tasting room in Sonoma.  We were greeted by Ross who made us feel at home and set us up with a bowl of those delicious truffle oil almonds.  We started with the 2011 Hyde Vineyard Carneros.  It has aromas of orange and white flowers and a palate of crisp acidity and minerality. Lite oak and spice on the finish. $58.  2011 Zio Tony Ranch, Russian River Valley Chardonnay has aromas of citrus and green apples.  On the palate it is well balanced with acidity and minerality with a hint of butter and oak on the finish.  $60.
Day Two
After taking the doggies for a walk, we headed to Schug Winery.  Schug Winery is a 50,000 case producer.  The winemaker, Walter Schug, is a 3rd generation wine maker.  His life story, growing up in Germany and emigrating to the US, is very interesting.  We started with the 2012 Chardonnay Carneros.  It was well balanced with a lite butter finish.  The 2011 Pinot Noir Carneros is their Flagship.  I found it to be fruit forward and lite tannins. Price points for both wines is acceptable. The 2011 Pinot Noir, Carneros "Schug Estate" was quite nice.  I found it to be smokey, dark fruit notes, well balanced acidity and tannins.  The 2010 Cabernet Franc is 70% Cab Franc, 25% Cab Sav. On the palate it was a little dry with dark berry fruit.  2012 Late Harvest Riesling has aromas of honey suckle and bees wax.  It is sweet but not over the top with notes of apricot and honey. Its also lite on the tongue and not syrupy.  Price point a little high for the smaller size bottle.  The 2010 Rouge De Noirs, Carneros, Sparkling Pinot Noir was a nice surprise.  It reminded me of a bubbly version of the 2011 Pinot Noir Carneros with a little more character.  I enjoyed all their wines and I think it id definitely worth a visit.  Schug also has a self guided tour of the Estate which provides some really nice views.  Gloria Ferrer was our next stop.  Gloria Ferrer has a nice 2010 Brut rose that reminds me of citrus and raspberries.  The 2008 Jose Ferrer Pinot Noir was my favorite.  Its long legs and ruby color hinted of the complexity of the tannins and the flavors of raspberry and cherry.  At $42 a bottle I could not resist.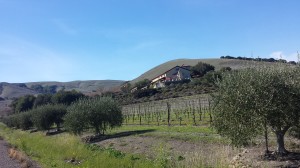 We headed back to town to continue tasting on the town square.  We wondered into Walt and it was a great find.  Walt features Chardonnaya and Pinot Noir.  Heaven….  Jerry was great.  I felt like we were old friends hanging out at a barbeque.  The 2012 "Blue Jay" Anderson Valley Pinot Noir is a four vineyard blend.  It has a nice lite color, good legs and blue fruit, black cherry is smooth and easy on the palate.  We did a side by side comparison of the "Blue Jay", "Hein Family" and "Savoy".  The "Hein Family" vineyard is located closer to the coast.  It gets less sun and cooler temperatures.  The "Savoy" is mid-valley and has the best qualities of "Hein Family" and "Blue Jay", which is the furthest from the coast.  "Savoy" was definitely my favorite but out of my price range at $60. I enjoyed all the wines at Walt and are my recommended stop in Sonoma. Jerry suggested we stop by MacLaren Tasting Lounge.  I remembered visiting him when he was pouring at Talty Winery in Healdsburg.  By the time we got to MacLaren, they were closing up but, they were willing to pour for us.  So, they unpacked the bottles and we got to taste some really good syrahs.  We were poured four wines; 2010 Judge Family Vineyard, Bennet Valley, 2010 Drouthy Neebor, Sonoma County, 2009 Drouthy Neebor, Sonoma County and the 2010 Samantha's Vineyard, Russian River.  My favorite was the 2009 Drouthy Neebor.  It had a big fruity nose and was well balanced.  And, the price points are reasonable.
Sonoma was a really nice wine tasting experience.  Everyone we met was really nice, engaging and more than willing to carry a conversation and joke with us.  Can't wait to go back.