Lucky, lucky FTFers, we are bringing you all along for my birthday trip. As per our tradition, Troya took me on a suprise trip for my B Day gift. After placing our dog witn the sitter we headed south to Carmel. Our first stop was at the Carmel Cheese Shop, yes our favorite. We picked out 4 amazing cheeses, but to my dismay could not eat them there andd then. After a little back and forth we decided to have lunch at Dametra Cafe, a little greek cafe on Ocean street. From the moment we walked in the door the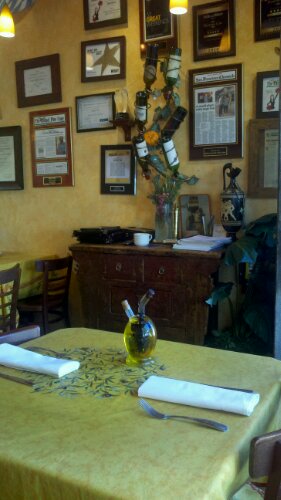 staff went out of their way to make us feel welcome. The old saying is that good service can make up for bad food, but not the other way around. No worries here, the food was amazing too. We started with a feta and spinich wrapped in baked philo dough as a starter. Tasted just as it should, not too greasy, perfect balence of flavors. Next we split the greek salad and lamb gyro. The salad was good, needed a few more olives and the creamy dressing a little different. The gyro was great. The lamb was so soft that it almost melted in your mouth, and absolutely no gamey flavor at all. The pita was fresh baked and so flavorful you could eat it alone and be happy. We opted for no desert, but then were treated to fresh baclava with carmel sauce. We were worried it would be too sweet, but the nutty flavor with a bit of honey was in perfect ballence and not too sweet. We now have a definite "go to" spot when we come to Carmel.
For the we drove south to Big Sur. Troya booked us at the Ventana Inn. Wow, talk about customer service, we had a bell hop meet us in the parking lot to take us and our bags to check in and our room. Champagne on ice in the room when we entered and a view of the ocean. Our dinner was the cheese and bread from the cheese shop paired with an 07 Dry Gewurztraminer from August Cellers in Oregeon. I am not usually a big Gewurztraminer fan, but this one was very different. It was still fruity and floral, but not overbearing. This wine was so incredable with the cheese, it was like a chameleon. If the cheese was sweet, the wine was more floral then sweet. With the tart cheeses, this wine was a little more sweet. A very fun food adventure. More to come from our Ventana Inn stay.