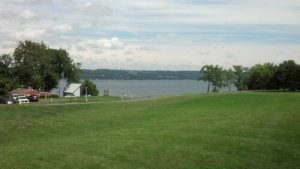 Growing up here oh so many years ago this area had a few wineries scattered around the lakes but nothing like you see today. The "wine revolution" happened about 25 years ago when people realized the climate around here matched those of some of the very distinguished growing areas of the word. Quality has steadily improved and now the finger lakes area of New York has become a highly regarded Appalachian for white wine and now grows more Riesling then Germany. I have tasted a few of the local wines but it has been a while so Troya and I were looking forward to re-visiting the wines of the finger lakes.
Jumping onto the Cayuga Lake Wine Trail for our first outing we started at Americana Vineyards. They have a little restaurant here and we wanted to "fill-up" before hitting the trail. The food here is some of the best we have had in the area, using all fresh ingredients. We were told by our server "pick what you like because no one thing is better the other", and she was right. I had a lamb burger that was perfectly cooked, not gamey at all and was as flavorful as any I have had. I am not much of a sweet potato fry person, but these were also some of the best I have had. The pulled pork sandwich and pork hash also got great reviews. Ensured that our blood sugar would not drop for a while we stepped into the adjoining tasting room and were greeted by Candice who happily entertained us while leadng us through our tasting. They have over 20 wines on their list with names like Revolutionary Red, Americana Blush and Indian Summer. Notables here were the Chardonnay, which had a lot of oak, but not over the top, and a clean smooth finish with a hint of apple and pear. The dry Riesling was also very good with a nice balance of fruit and mineral. The Pinot Gris was also very nice, unique in that it had a lot more fruit and less acid then your typical Pinot Gris. Finally the Apparition had a very nice balance of citrus and sweet, a great summer picnic wine that would pair well with just about anything you can put in a basket.
Our next stop was Bellwether Ciders. They produce several types of cider from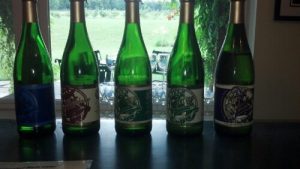 champagne style to original to desert. These ciders are all made with local apples, some from your typical table apples and some from varietals grown specifically for cider. It was a lot of fun to be about to taste them all side by side and pick out their unique qualities.
Continuing up the trail we found ourselves at Sheldrake Point Winery, one of the better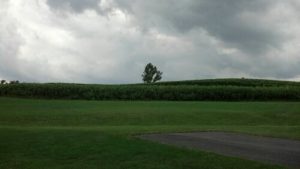 known wineries in the area with picturesque views done onto the lake. Known for their Riesling, the wine that impressed me the most was the 2012 Gewurztraminer. Very floral on the nose and no disappointment on the tongue. This was easily the most complex wine of the day with layers of floral and fruit and a long, clean finish. This is something I might want to drink alone so as not to mask or overpower any of the flavors in this wine.
Out on the trail again we stumbled upon Myer Farm Distillers. Not what you typically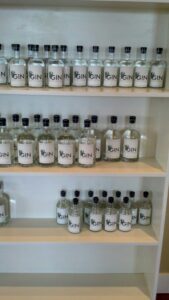 find on a wine trail but we could not pass it up and are glad we didn't. They produce several types of spirits here. The Ginger Vodka was very flavorful and unlike any vodka I had ever had. The Wheat Whiskey was as smooth as any that I have tasted and something you could sip and enjoy alone. The gin here is also outstanding. Definitely work the stop, even for those who do not typically enjoy the "hard" alcohols.
Our last stop was Hosmer Winery. They also have a long list of wines to choose from, but the only thing that really impressed me here as their sparkling wine and the Raspberry Bounce which is a sweeter sparkling wine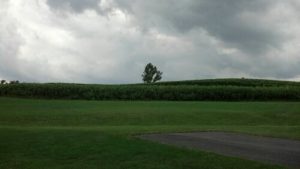 with a lot of flavor.
A short but eventful outing on our first day. The Gewurztraminer from Sheldrake Point was easily the wine of the day, but Americana was our favorite stop with several quality wines and a warm, friendly, relaxed yet very knowledgeable staff.