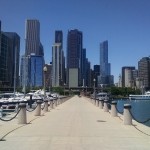 Let's do some word association. If I say Chicago, you say…………………………..Well if you are anything like me (and not from Chicago) then you think if things like big city, mob, cigars, sports (you pick, Cubs/Sox, Bears, Bulls, Blackhawks), and most of all COLD. What I do not think of immediately is food, or at least not good food, maybe a dog and a big steak. But when I stated telling people I was going to Chicago for a conference everyone started giving me lists of places "I had to try". Fortunately I was going with another "food person" (not cool to call us foodies anymore) who had been to Chicago recently and knew a little bit about the landscape. After reviewing all the "lists" and doing a little bit of research we started to put together our game plan. Dinner was relatively easy aside from getting the reservations we wanted. The real trick was figuring out what parts of the conference we could duck out on to get lunch and when we needed to get back, but needless to say we had our motivation.
I landed late Monday evening. My colleague was not due in till the next day. He was not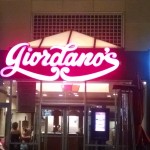 interested in trying any Chicago style pizza, so I figured this was my chance since I had never had Chicago style pizza IN Chicago. As you can imagine I had lots of options, but given the time and location it was narrowed down to Giordano's and Pequod's . I chose Giordano's even though Pequod's had somewhat better reviews. I just wanted a classic, old fashioned stuffed pizza and Giordano's seemed to fit the bill.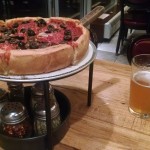 It came out looking exactly as I had envisioned and after eating the first piece while it was still too hot (and burning the roof of my mouth as I have done with hot pizza since childhood) I let it cool a little to let the flavors settle and mature. I was happy I did, not only did I stop burning the roof of my mouth but the pizza came alive and tasted, dare I say, exactly as I had envisioned. Lots of cheese, a dark robust tomato sauce, sausage, mushroom and olive. All of the flavors playing off each other along with the light crunchy crust. I am usually a thin crust pizza guy, but after that I will go for a real Chicago stuffed style pizza any time.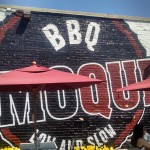 The conference did not start till after lunch the following day. One of my friends had recommended Smoque BBQ and said that it had the "best brisket" he had ever had. How could I resist. Since it was, as my friend said, a little bit outside of town (the cab ride cost more than the meal) I figured this was a good time to go since I had the morning to kill. Yes, it was a long, expensive cab ride there but it was well work it. I opted for the ½ and ½ brisket and pulled pork. While the slaw and mac and cheese that it came with were nothing over the top, the brisket was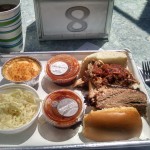 incredible, flavorful and tender without being too fatty or dried out. The real show stopper for me though was the pulled pork. Not sure exactly what they do to it but it was by far the best I have had. The meal also comes with two styles of BBQ sauce, Carolina style with a bit more vinegar and Memphis style, thicker and deeper in flavor. I liked the Memphis style more and if it had had more heat to it I would have found a way to bring some home.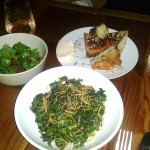 That evening my colleague and I met some of his friends at Parachute. A fun little neighborhood small plate Asian restaurant with a celebrity chef. All of the plates were good to great but the squid ink noodles and pork dish were over the top. The one down side of this place is that it can get a little loud and it seems like the louder it gets the louder they turn up the music, almost like it's a competition. We stayed late and by the time we were finishing it was clearing out so the noise and the music were down to a hum and the whole experience was much better.
The week before we left my colleague shared with me that Au Cheval was crowned the best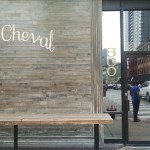 burger in the US. So you think we could have left town without trying it, not a chance. We snuck out of our conference that day a bit early to try to beat the crowd but a place like this is always crowded. Fortunately we were able to get a spot at the bar rather quickly. We tried a few other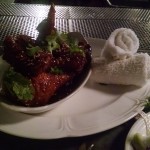 things on the menu, the fried chicken was good and a meal in itself, but the real treat was the burger. Served with 2 patties and an egg on top as a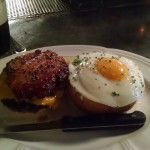 standard, this was not a first date kind of meal. Sloppy but good to the last drop. I have had some other burgers that I might rank ahead of this one, but not many and this was definitely in the top 5.
That night we had reservations at Girl and the Goat. This was
the one place that my colleague said we had to go while we were here. Located in, and one of the founding fathers of what is known as the Randolph Restaurant Corridor, this is the place you notice from a block away. You can feel the energy as you approach and getting a table without a reservation means a long wait on the curb. Another small plate establishment with a menu broken down into V for vegetarian, F for fish and M for meat dishes, and then a separate menu for the goat dishes. We tried several from each category but fair warning, if you skip the goat options because you are "unsure" you will leave disappointed. I could go on and on about this place but the bottom line, this was the best meal I had while in Chicago! Put this place at the top of your list.
The following day was our last in Chicago and not what we expected, cold and rainy in the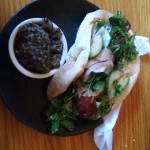 middle of summer. We gathered our last bit of motivation and hailed a cab to take us to Avec, recommended by several of our friends. I am not sure if it was due to the weather, being the end of the week, or that we were there for lunch but I was not overly impressed. I had a house made sausage sandwich which was good but nothing that I did not feel I could not have made at home. My colleague had the pulled pork sandwich which looked much better and he was very satisfied. Maybe I just made the wrong choice.
My final takes on Chicago; the food scene is truly happening here with a lot of creativity
and variety. This is definitely no longer just a city where you can get a good steak (although that still exists). From the research I did it also looks like they have a bit of a mixology scene and a few wine bars here that looked interesting. Unfortunately we were only able to get to one of them. They also have a ton of activities to do in and around the lake and river. Bottom line, this is not somewhere that I would consider a destination, but when I do have to be here (business) I know that I have many food/drink/activity options to make the trip truly enjoyable.