Puerto Vallarta, home of tequila, real tequila! Until recently I was probably like you, thinking a good tequila was one that did not immediately come back up, was best used in mixed drinks, and drinking it straight was only a way to show your man/woman-hood. Then Brax introduced me to real tequila. It took some persuading but I finally succumbed and accepted a taste from his prized collection. Sip it he pleaded, so that I could enjoy it. That was the farthest thing from my mind until I tasted it and, like a good wine, could taste the layers, complexity and smoothness, yes smoothness, a good tequila can offer.
Tequila is made from the blue agave plant found in the Jalisco state of Mexico. Most of the tequila found in the US, the mass production stuff, is what is known as 50:50. To be recognized as tequila it only has to have 51% blue agave sugar, the rest can be other various sugars which help to reduce the time needed to make the tequila and increase the volume you can get from a plant, but steals all the quality aspects a true tequila. To be sure you are getting 100% agave, look for the term "100% de agave" on the label. To truly appreciate tequila you need to go to Puerto Vallarta.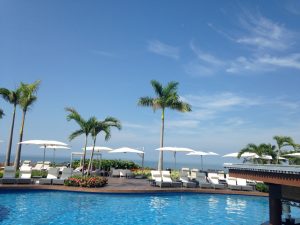 With that in mind when we were given the opportunity to stay at the Grand Luxx Resort for a week, part of the Grand Mayan/Grand Bliss/Grand Luxx residence club in Nuevo Vallarta, we jumped at the chance. Having been to Mexico and even Nuevo Vallarta before, I was expecting more of the same. If you shy away from Mexico for whatever reason, safety, food, water, comfort, this resort will surpass your expectations on what a Mexico vacation can be. Between the numerous pools, restaurants and activities we could have spent the entire week here and been completely happy. We did not sample all the restaurants, but the ones we did were good, especially for resort food. The bar/lunch food was actually very good. The 24/7 guards in the front and the imported bottled water added to the relaxed and secure atmosphere of the entire place.
If you are feeling adventurous here are some suggestions; There are a number of small, vacation towns in the area, Sayulita being one of them. A great little town with a very active square in the middle, clearly still the center of activity. The beach is situated to capture a good north swell and is one of the better surf towns in the area (unfortunately flat the day we were there). Some of the best and most traditional meals we had was at Rosa Mexicano in Bacerias Nayarit, a very short drive from Nuevo Vallarta. They have molcajete, a dish made with meat or seafood (or a combination) in a spicy chile sauce with onions and cactus served in a hot molcajetes bowl made of lava rock that is a must anytime you are in this area! Claudio's Restaurant and Bar is also in Bucerias and has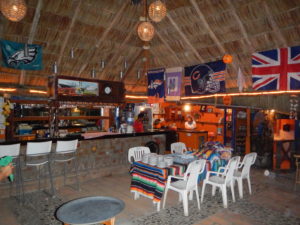 some great traditional food, but the seafood there is definitely worth the trip. If you are in Puerto Vallarta, the La Langosta Feliz and River Café are both worth the stop. If you are looking for something to cut all the tequila PV has its own brew pub, Los Muertos. Good beer and classic bar food. This place hit the spot when we needed a slice of pizza and a beer. Finally in Nuevo Vallarta, give Eddie's a try. Good for traditional Mexican food, but you can also find American options if you find yourself craving something from the US and they even have some Lebanese options.
Then there is the tequila. You can choose to do a tour and learn about the history and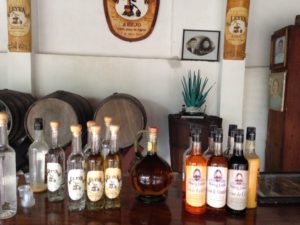 production process which we did at Mama Lucia/Agave Leyva, or you can just go down to the board walk in Puerto Vallarta and visit some of the many tasting rooms and sample many side by side. Here you will be able to really appreciate how different and complex they all can be.
A few last words about this region. Go for the warm water, weather, tequila or what have you, but the people here are what will make your vacation. Yes, many are trying to sell you something, but they are not rude or overly pushy. The rest are some of the nicest and accommodating you will find anywhere, always willing to go out of their way to help or make you feel special. Unlike many places I have been, they seem to get what it means to be a vacation economy.