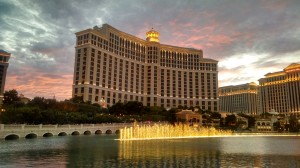 I cannot say I a Las Vegas kind of guy. Swank I am ok with, decadency, not so much. I am not a gambler and while the people watching is unparalleled, I do not find much else to look forward to when I come to Vegas. That is until this trip. It started with a conversation with Tony at work. He mentioned he had just come back from Vegas and I said I was just about to leave. When I told him that I was staying at the Cosmopolitan, he started to tell me about a little known pizza place on the second floor. "It's right next to Holstein's" he said, "the place with the best burgers in Vegas".  "Would you walk past Holstein's to get the pizza?" I asked. "No" he replied.  Well, that's and easy decision I thought.
So in I walked, expecting a typical well hyped Vegas meal with little to show when all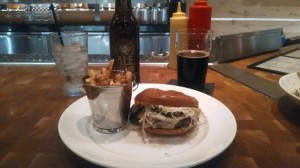 was said and done. I sat at the bar and was instantly greeted by Toshi. He started to tell me about the over 100 beers they had available and then asked what I was interested in. I told him I was interested in a stout. He listed off several they had available and then asked me to wait. He returned with a Left Coast Ale Epeteios Imperial Stout and said I would not be disappointed. How could I refuse, and I am glad I didn't. A very nice, deep flavored stout with coffee and dark chocolate flavors and a clean finish. He then proceeded to recommend several burgers on the menu that would pair well with my choice of beverage. I choose the The Fun-Ghi , a beef Patty with truffle marinated portabella mushrooms, caramelized Onions and gruyere cheese. I am well versed with wine and food pairing, but here was a BEER and food pairing that made me stop, smile, and slowly enjoy every bite. I can honestly say it was the best burger I have had and the pairing made it a meal to remember.
Thank you Toshi for the hospitality, recommendations, and reminding me how good beer and food pairing can be. I will be back!