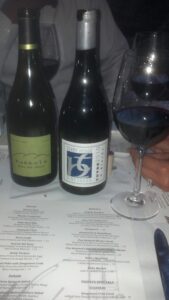 After talking about it for just about a year we finally got Brax and Hill to join us at Nick's Next Door for dinner in Los Gatos. What used to be Nicks on Main, a small but cozy storefront restaurant that felt packed in and busy all the time, in a good way, is now a posh building all on its own with outside/fireside seating. Nick is moving up in the world. Wanting to ensure we had wine to match the meal we know we were going to have we brought a '10 Terry Hoage 5 Blocks and Brax and Hill brought a '09 Kukkula pas de deux. Of note, after reviewing their wine list you will not be disappointed with the choices if you leave the wine to Nick. The list is long with lots of variety and many excellent choices.
Before I go into detail about the meal (getting hungry thinking about it) I want to say a few words about our wine selections. To be honest, I was a little worried. Kukkula wines are generally big, the kind of wine that goes well with spicy food or a big piece of meat. Terry Hoage wines, while they have a lot of flavor, are generally soft. The kind of wine you want to drink all by itself. I was concerned that the Kukkula was going to overpower the food and the food was going to overpower the Terry Hoage. Happy to say that I was dead wrong on both accounts. Both wines paired incredibly well with all the food. The Kukkula softening and blending much better than anticipated and the Terry Hoage stepping up to all the flavors in the meal. We either got really lucky or we are getting really good.
On to the food.  To start Troya and I shared the warm spinach salad with goat cheese, roasted shallots, a crispy onion ring with a smoked bacon vinaigrette and the mushroom soup. The salad was good, but with all the powerful ingredients I was expecting a bit more flavor. The soup was great, very nutty and flavorful.  We all shared the Risotto Croquettes with parmesan cheese and confit of pancetta, the Steak Tartare with pommes frites and a fried egg on toasted sourdough, and the Dungeness Crab Toast on sourdough with lemon-basil aioli. The risotto Croquettes were good, but seemed to be missing something and did not stand up to the other starters. The steak tartare was awesome and the fries that come with it put mc-y-d's to shame (not an easy thing to do). The Dungeness crab toast was good but lacked the crab flavor that I was hoping for, seemed to be drowned out a little.
Now a quick word of warning. Nicks Next Door is the type of place that is torture trying to decide what entrée you want. Every time you think you have made up your mind you get the feeling you are going to miss out on something else. So what did the FTF do when faced with such a dilemma, we thought of you, our readers. Selflessly we decided to pick 5 entrees to split between the 4 of us so we could review as many of the entrees as possible. Oh, the sacrifices we make……..We finally settled on the Chilean Sea Bass with chilled artichoke hearts, braised fennel and a pepper and nicoise olive ragout, the Abalone special, the Pan Roasted Colorado Lamb Chop with rosemary gnocchi, english peas, morel mushrooms with a red wine demi, the Caramelized Scallops with duck fat infused faro and roasted red pepper sauce and the Orrechiette Pasta with Duck Sausage, roasted peppers, sweet onions, carrots asparagus and tomatoes.
It's a lot of fun to be able to taste so many incredible dishes but you have to be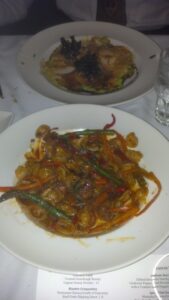 careful that you clean your palate in between tasting or you lose the subtleties of some of the flavors and some of the more delicate dishes will be overpowered. It was interesting that we all had our own favorite, and that my favorite was last on some of our lists. For me, I put the Orrechiette Pasta with Duck Sausage first. The pasta was very good, and the sauce was nothing special, but the duck sausage meatballs were incredible and carried the entire dish. Next was the Pan Roasted Lamb Chop. Done well lamb is one of my favorites and this had all the qualifications. Tender, not gamey and the gnocchi and mushrooms with the demi was a flavor fest (this is the one that could overpower some of the other dishes). Following this was the Carmelized Scallops. Not much to the plate, but they  were phenomenal.  Not fishy or salty like some scallops can be, not too mushy or rubbery like others can be. Incredible flavor and perfect texture. Next was the Abalone. I have only had abalone a couple times before and its had been very tough although it has very good flavor. This was very tender, not chewy at all. The flavor is somewhere between calamari and conch. Last was the Sea Bass. This dish was still very good with lots of flavor but it was very subtle and could not stand up to the other dishes or the wine. Likely our fault for ordering it with all the others.
All in all our second visit to Nicks was a fabulous night out and we have converts in Brax and Hill. Likely because of expectations, we did not leave as starry eyed as the last time, typical for second visits, but Nick did live up to the challenge and I would recommend a visit to anyone in search of fine food in the South Bay.